Cash Flow
Cash flow is the amount of money entering and leaving a firm in a given time frame. Cash flow forecasts predict how much money will be coming in and going out. Firms need cash to purchase materials in order to create products... which generates cash, as illustrated below.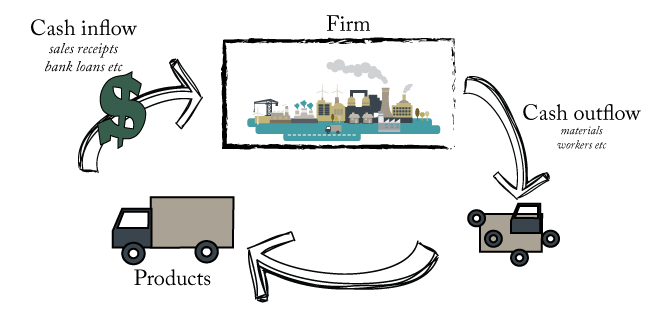 To work out where the cash is going in a business, firms use a Cash Flow Forecast. This is a prediction for a period of time as to where money is going to enter or leave a firm. It is reorded as below.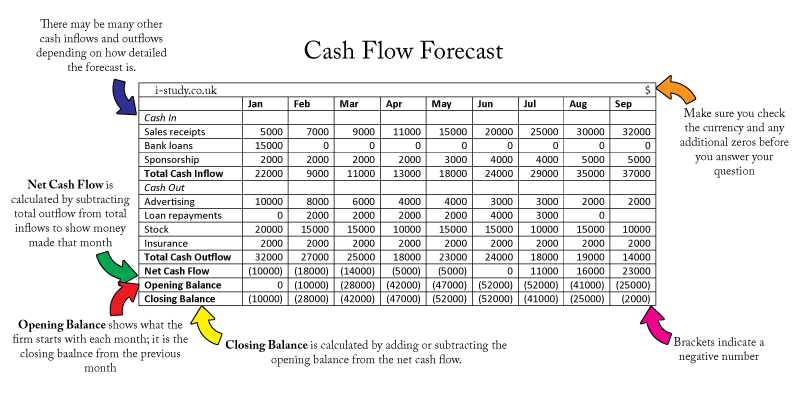 Problems associated with poor cash flow
Methods to improve cash flow
1) Increase cash inflow
2) Reduce cash outflows
3) Internalizing costs
4) Additional funding
Investment
Making an investment is risky business. To calculate how quickly they will recover a loss incurred after an investment, firms can use two methods; the Payback Period and the Accounting Rate of Return
1) Payback Period
This is designed to show how quickly a firm will recover the money it has put into an investment. If for example, a company invested in a new promotional activity that cost $100 000 but was expected to increase sales by $100 000 in the first year alone then the payback period would be one year. By comparing different options' payback period, firms can decide on which investment will give them the quickest return on their money.

Problems with the Payback Period
Does not show which option is most profitable in the long run
Assumes external factors will not change the payback period (e.g. rate of interest / inflation)
It is difficult to predict figures over many years
Uses of the Payback Period
Useful for businesses in a fast-changing industry
Useful for shareholders who want to invest in a company with a quick turnaround
2) Accounting Rate of Return
This seeks to show how much of a return a company will gain per year on its investment, as a percentage of the initial outlay. For example, a firm that spends $100 000 on a project estimated to last 5 years might earn $220 000 at the end o the 5 years. The profit gained from the project is $120 000 ($220 minus the initial outlay of $100 000). Per year this is $24 000 profit. As a percentage of the initial investment this is 24% (24 000 / 100 000 x 100). So, we expect a return of 24% every year on our initial outlay. As a rule, the following three steps are a helpful way to remember this:
1) Calculate total profit
2) Calculate profit per year
3) Calculate profit per year as a percentage of the initial outlay.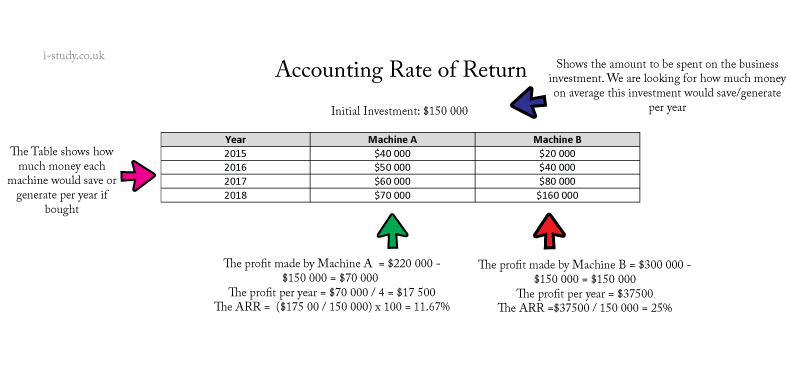 Problems with ARR
Does not take into account time. ARR assumes that the money earned at the end of the time period is worth the same as the money earned at the beginning - this may not be true due to inflation.
May leave a firm short of cash flow. Unlike Payback Period method, ARR assumes a firm can cope for longer periods of time before earning back their initial investment; if a firm needs cash, this method would not be good.
Net Present Value (NPV)