Food Production & Distribution
Throughout history there have been advances in agricultural practises and equipement. The move from nomadic lifestyles to sedentary farming techniques led to significant changes in peoples diets. Since then we have developed machinery to increase productivity of labour, developed chemicals to aid growth and reduce disease and parasites. In recent decades the explosion of global populations has demanded new approaches to increase the food supply.
The Green Revolution: this started in the 1940s but its impacts were mainly felt from the 1960s onwards. Selective breeding of wheat and rice led to more resistant and higher yielding crops. Coupled with irrigation and fertilisers it vastly increased the food production in Mexico, the USA and India. It was most successful when farmers could afford to invest in the additional capital inputs required. The increased supply of cereals led to a fall in price which ws good for consumers. It meant that small scale farmers that had taken loans to invest in the needed inputs struggled to repay their debts though.
There are concerns about the lomg term sustainability of the green revolution as large scale irrigation is depletinhg rivers and underground aquifers. Indian potatoe farmers have experienced falling water table levels and are digging deeper wells to extract water that is becoming increasingly saline.
Types of Agricultural Systems
Agriculture exists in all economies in some form or other. Rising populations are decreasing the land available for agricultural practises whilst at the same time increasing the demand for food. This results in ever increasing demands for increased productivity from the land and farmers.
Subsistence farming: the practise of growing food for consumption, not for selling. Typical in developing countries where farmers have very little capital inputs such as machinery, fertiliser, pesticides and irrigation systems. Yields are likely to be low and the methods are usually labour intensive. The lack of additional produce to sell means that there is little chance to invest in capital to increase the yields.
Commercial farming: the practise of growing food specificaly for sale. Commercial farming is profit motivated and usually involves a high level of inputs such as irrigation, fertilisers, pesticides, greenhouse and climate control systems etc. The investment in capital leads to higher yields and the processes are often highly mechanised rather than labour intensive. Commercial agricultural practises have expanded into biofuel production in recent years.
Monocultures are typical in commercial farming (sugar cane, palm oil, cattle ranching, bananas).
Pastoral farming: rearing and caring for livestock (cows, goats, sheep, pigs).
Arable farming: growing of crops - for food consumption or use in other products (potatoes, bananas, sugarcane).
Extensive farming: farming that requires a large amount of land with low inputs and outputs (hillside cattle farming, nomad catlle and goat farmers in East Africa).
Intensive farming: farming using a small area of land and maximising its output through high levels of inputs. (commercial greenhouse vegetable production).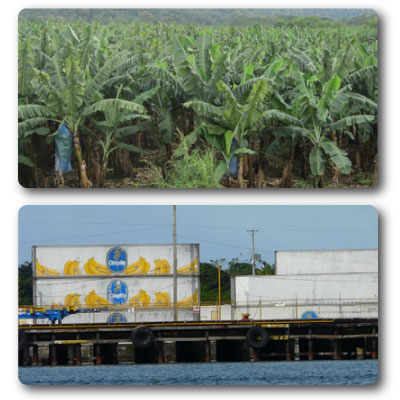 Commercial Banana Production: Panama
Bananas are produced on a huge scale in Panama. The produce is destined mainly for European and North American markets rather than domestic consumption. Several large companies dominate the industy in Panama & Costa Rica: Chiquita, Fiffes, DelMonte and Dole.
Irrigation systems, fertilisers, pesticides and herbicides are all used to increase the yield. Banana bunches are covered in blue plastic bags to keep insects off.
Banana bunches are harvested by hand & then hooked onto pulley systems to be transported through the fields back to the main warehouse. They are rapidly loaded into containers on lorries to be taken to the nearby port where they are put onto cargo ships.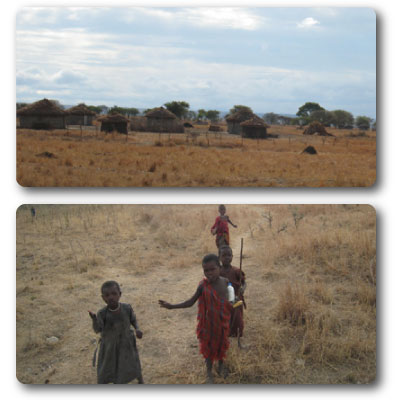 Nomadic Cattle Farming: Tanzania
Traditional patoral techniques are still practised by the indigenous Maasia tribes in Tanzania and Kenya. Although increasing populations have led to significant reductions in the land available for nomadic cattle and goat herding, it does stilloccur in a more restricted sense.
Mosts tribes have semi-permanent encampments (bomas) and the distances that cattle & goat herders travel are less, but a large part of the wealth of tribes is still the number of livestock that they own. The animals & herders wander the savannah looking for good grazing which follows the seasonal rain belts.
The Maasai are allowed to continue their traditional agricultural practises in some of the countries national parks such as the NgorroGorro reserve - where all other agricultural practises are banned.