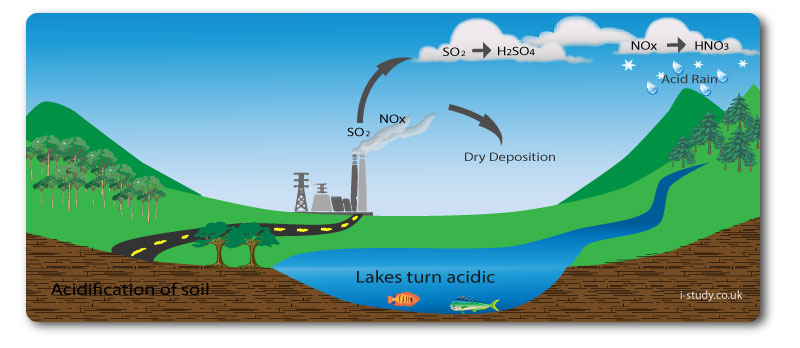 Acid Deposition
Acid deposition is the term for acid come to the earths suface from the atmosphere. It comes down in two main forms. Dry deposition is when it comes down as gas or dry particles. Wet deposition is when it comes down as part of precipitation.
Causes
The main cause of acid deposition is the burning of fossil fuels by transport and industry. This releases sulphur dioxide and nitrogen oxides into the air. These can mix with water vapour becoming sulphuric acid and nitric acid which fall to earth as acid rain.
Effects
Forests: acid rain significantly damages coniferous forests and ins some cases kills the trees. The acid rain damages the leaves/spines reducing the capacity for photosynthesis. Acidification of the oil damages the roots reducing nutrient uptake. These combined effects weaken the trees.
Rivers & lakes: freshwater bodies become increasingly acidic which harms fish and other aquatic organisms. Scandinavian lakes have been significantly impacted by acid rain. The increase in acidity caused a significant decline in the fish levels.
Leaching: acid rain also increases the leaching of aluminium, lead and mercury from soils into rivers which are particularly harmfull.
Soils: increased acidity of soils leads to increasing leaching of nutrients which leaves them less fertile. Many plants cannot tolerate acidic soils and are subsequently harmed, possibly to the death.